Discussing costly material prices, recent supply shortages, and TriEnda's actions to mitigate rising material costs.          
During the first two quarters of 2021, global supply chains have faced challenges with rising costs of material prices and supply shortages. At TriEnda, we've witnessed the change in costs and shortages like many other businesses.  While these changes can put a strain on supply chains, our processes and strong communication with customers has gone a long way to ensure we're managing cost expectations and delivery schedules.
We discussed these challenges with our Vice President of Supply Chain Management, Sean Smith, to gain some deeper insights into this global issue and what he expects for the future.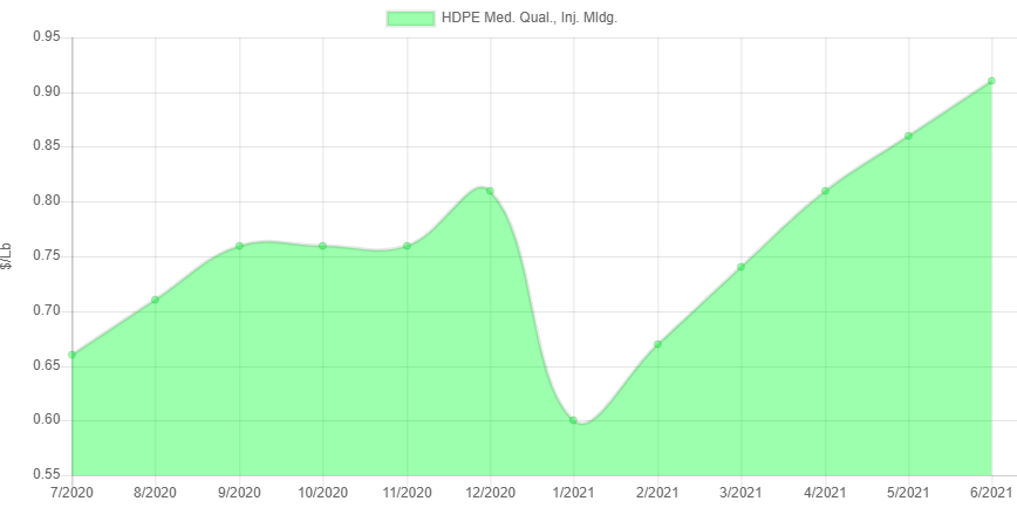 Causes of Rising Material Costs            
When we spoke with Sean, he listed a few different causes for the rise in material prices we've seen:
The COVID-19 Pandemic
The Suez Canal Block
The Recent Texas Freeze
All of these are playing a role in the challenges we've been working through, especially the ongoing pandemic. Sean stressed that they all tie into one major imbalance in supply and demand.
Back in March of 2020 when shutdowns began, certain industries completely shut their doors, while other businesses in industries deemed "essential" remained open and even prospered. Sean explained how a shift in supply and demand is leading to a lot of the issues occurring today. For example, take the microchip shortages. A sizeable percentage of the supply of microchips typically went to manufacturers in the automotive space to produce vehicles. But, when auto plants shutdown and people stayed in their homes, that supply didn't stop instantly. In fact, the supply of microchips that was typically reserved for vehicle manufacturers went towards manufacturing video game consoles as people turned to those to keep themselves entertained at home. And now that auto makers are opening back up, they don't have access to their typical supply of microchips that are now reserved for the high demand of videogame consoles, and thus their supply-chains are strained. The same principles of the shift in supply and demand has applied to many other materials across the globe.
Catastrophes like the Suez Canal blockage and the electric outages caused by cold temperatures in Texas also contributed to material price increases. 12% of global trade passes through the Suez Canal which includes 30% of all global container traffic. So, when the blockage occurred in March, it created a problematic domino effect within global supply chains.
The freezes in Texas were another unexpected catastrophe that are leading to material price increases. In Texas, there are many facilities that create the high-density polyethylene material that is used in the production of our thermoformed plastic pallets, and other plastic goods. Cold temperatures and the lack of preparation in the south led to power failures and the shutdowns of those plastic plants, which have a direct impact on businesses who rely on that plastic material like TriEnda.
Our Expectations Looking Ahead
Dealing with rising prices is challenging for our internal teams as well as our loyal customers. We do everything in our power to keep costs low for them, and it is understandable how price increases can steer businesses away from choosing to purchase plastic material handling solutions. After speaking with Sean, he made it clear that he sees some light at the end of the tunnel for material prices. Barring any more unforeseen catastrophes, Sean said that he expects to see a dip towards the norm for many material prices. We may not see pre-pandemic price levels, but they are expected to go down slightly as time goes on and more and more lockdown restrictions are lifted to allow for the production of more materials.
If you wish to dive into the world of custom thermoforming or are looking to convert your wood pallet options to reusable plastic ones, schedule a call with a member of our dedicated team today so that we can help you decide what's right for your business!