Meet our material handling solution to serve your one-way shipping needs.
Domestic and global companies often need to navigate a series of hassles and costs associated with wooden pallets, especially for one-way shipping. Issues like breaks, splinters, nails, and sharp edges risk damaging products and materials; and international regulations make wooden pallets more cumbersome to use in global transportation. Additionally, the recycling process is not a sustainable option due to the difficult removal of nails which lead to most single-use wooden pallets being deposited into a landfill.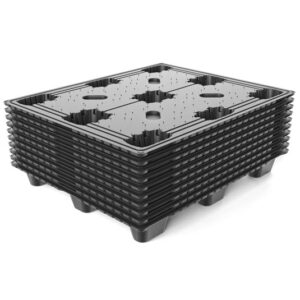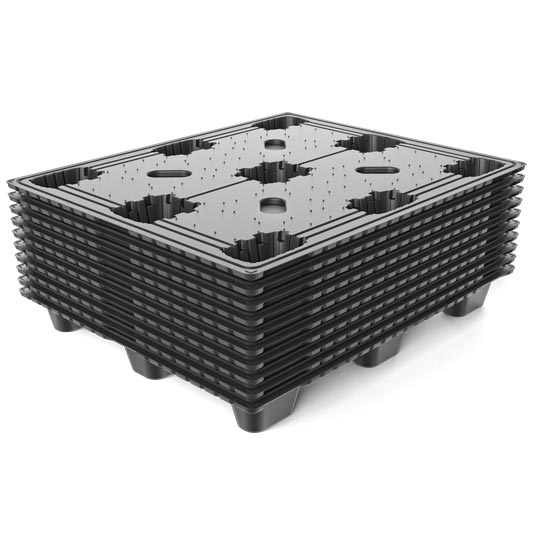 In response to these concerns, we have engineered an exciting new product that will solve your one-way shipping needs: the One-Way Plastic Shipping Pallet. This single-use pallet has been rigorously tested to withstand heavy-duty demands and is available today at a competitive price.  
The features and benefits of our new One-Way Plastic Shipping Pallets include:
Superior material and design 
Cost savings 
ISPM 15 exempt 
Available immediately 
Read on to learn more about the advantages of switching to our single-use plastic pallets.
Superior material and design 
We've engineered our new One-Way Plastic Shipping Pallets using cutting-edge thermoformed high-density polyethylene (HDPE) construction. This technology creates a plastic shipping pallet that is:
Clean and sanitary-

Rest easy knowing your cargo is contaminant-free. Our One-Way Plastic Shipping Pallets are easy to clean and do not harbor harmful bacteria.

 


 

Free of sharp edges-

Our one-way plastic pallets are smooth, with no nails or staples that could puncture and damage valuable cargo.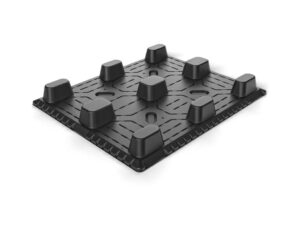 Durable-

Our One-Way Plastic Shipping Pallets are precisely engineered to withstand impact and hold up under extreme weather, including humidity and cold temperatures.

 


 

Safe and efficient stacking-

Our engineering team has designed the new one-way pallets so that you can securely

nest and stack

them for easier, more efficient storage that takes up less space.
Sustainable-

These single-use plastic pallets are

recyclable

, ensuring lower long-term costs, and a positive environmental impact.  Unlike other pallets, the One-Way is both sustainable and responsible, made from 100% recyclable materials means this pallet will never end up in a landfill.

 
Cost savings 
We maximized the design of our lightweight One-Way Plastic Shipping Pallets to help you save costs by utilizing our cutting-edge thermoforming manufacturing process. Thermoforming makes our products weigh less than traditional injection molded shipping pallets. By reducing overall cargo weight, these pallets can significantly lower your shipping costs, increase truckload capacity, and lighten the strain on your team.  
 
ISPM 15 exempt 
Our One-Way Plastic Shipping Pallets are ISPM 15 exempt, which means you can ship anywhere around the globe without having to worry about the hassle of fumigation and additional customs approval.  
Available Immediately 
Our new One-Way Plastic Shipping Pallets are in-stock and available today! Learn more about how our durable, cost-effective one-way plastic pallets can keep your cargo safe. Contact our sales team today at 800.356.8150 or reach out to us online.