While plastic pallets are inherently easy to care for, consider these recommendations for the most bang for the buck.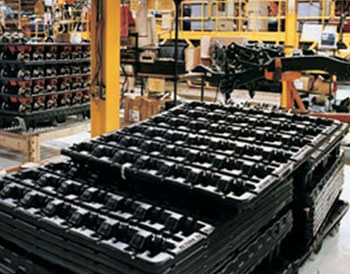 Plastic pallets are inherently strong and durable. They require very little care and maintenance, and unlike wood, they can be stored in virtually any conditions. Constructed of sturdy high-density polyethylene (HDPE) thermoformed plastic, our pallets are both weather- and impact-resistant, helping to reduce pallet reorder frequency and save you money. We've seen these pallets last more than 50 turns in the right environment – sometimes well over a decade!
However, plastic pallets are not indestructible. Like any pallet, proper entry and care can help prevent catastrophic damage. If you've ever wondered how to reach the upper turn limits to maximize your investment, we're sharing the following tips to help safeguard the integrity of your plastic pallets and extend their useful life for as long as possible:
Stack and load smart
Refer to floor and fork weight ratings
Avoid violent impacts
Ensure compatibility with loading equipment
Take extra care in freezing temperatures
Clean food and spills
Apply anti-skid protection
Practice theft prevention
Consider an incentive program
Keep reading to learn more about how to make your plastic pallets last longer.
Stack and load smart
Each plastic pallet conveniently outlines the shipping stack height, quantity of pallets per stack, and quantity of pallets and skids that fit in various sized trailers, containers, and high cube (HC) containers. Avoid exceeding these shipping guidelines to help ensure the safety of your pallets and cargo.
Refer to fork and floor weight ratings
Just as with the shipping guidelines, each pallet model also includes maximum weight ratings for both forklifts and the floor. Adhering to these ratings can help prevent overloading, which will help preserve the integrity and performance of your plastic pallets and help them last longer.
Avoid violent impacts
Because thermoforming leads to the most impact resistant products, most impacts merely puncture the surface and do not adversely affect the pallet's performance. However, there can be a point where the forklift will be stronger than the pallet. Taking care to avoid these catastrophic impacts can help extend the lifecycle of your plastic pallets.
Ensure compatibility with loading equipment
To get the most from your investment, plastic pallets must be compatible with your existing forklifts, hand pallet jacks, conveyors, and other equipment. Before you place a new order, we recommend a plastic pallet prototype and testing phase to help ensure a proper fit and supply chain system integration. This critical step avoids costly surprises that can cut the life of your pallets short.
Take extra care in freezing temperatures
While our plastic pallets are suitable for use in temperatures as low as -20F, take extra care in these freezing conditions because – by nature – plastic can become brittle with exposure. Gentle handling in these extreme temperatures can help prevent cracks or other damage that can render your pallets unsafe to use. In large enough volume, impact-resistant additives may be available to help in freezing temperatures.
Clean food and spills
Another way to help preserve the life of your plastic pallets is to keep them clean. Unlike wood, you can thoroughly wash plastic to help maintain performance and keep your cargo contaminant free. Refer to your industry standards for proper washing and sanitizing protocol, especially for food and product safety.
Apply anti-skid protection
TruGrip™ is a new surface technology with the highest coefficient of friction (COF) on the market, thanks to a proprietary rubber-like material that keeps cargo in place. Available to add to select pallets, this anti-skid protection prevents potentially damaging slippage on fork tines and floors that can help protect your pallets from catastrophic impact.
Practice theft prevention
Preventing theft is another way to make your plastic pallet inventory last longer. Keeping them in a visible, well-lit area, installing security cameras and post signs, and implementing a pallet-in, pallet out system are a few theft-prevention strategies to consider. 
Consider an incentive program
Many of our clients implement an incentive program that rewards handlers for the proper care and use of plastic pallets. The incentives can apply to teams or individuals, and they can be in the form of bonuses, rewards, or other means of recognition. Incentivizing your team is yet another way to extend the useful life of your plastic pallets and maximize your investment.

If you're ready to make the switch from wood pallets to long-lasting plastic pallets, contact our sales team online or call 800.356.8150 today.