Discover everything you need to know about battery packaging solutions for the automotive industry.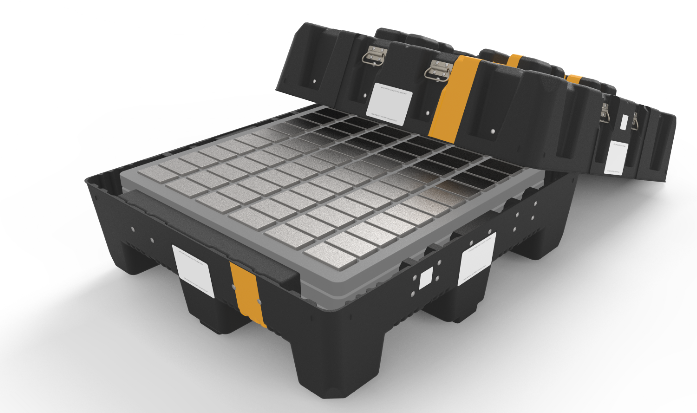 Our sales and engineering teams work closely with engineers in the automotive industry to provide superior battery packaging options for all your transport needs. Our process centers on engineer-to-engineer communication that often starts with a general idea and math data and culminates in a fully fleshed-out concept and design. In this guide to automotive battery packaging, we'll cover:
Battery packaging solutions
Features and benefits
Ordering process
Keep reading to learn more about our battery packaging solutions for the automotive industry.
Battery packaging solutions 
We offer many different types of custom automotive battery packaging:
Lithium-ion packs
Our UN certifiable lithium-ion containers are what set us apart from the competition. Not many manufacturers are poised to meet these rigorous UN certification standards like we are. We know all about how to design lithium-ion containers specifically to meet these brutal testing requirements.
Complete battery assembly packs
Our automotive battery packs fully encapsulate and protect the battery during shipment. The benefits of these battery packaging options include nesting capabilities for better return ratios, less storage space, and lower cost and weight than steel containers.
Battery section reman packs
Our remanufacturing packs are used to transport re-manufactured battery sections to the dealer or service center where the battery section will be placed in the battery assembly.
Standard car battery packs
We also produce containers that hold standard car batteries. These containers are shipped to your battery manufacturer before going to the assembly plant for installation in the vehicle.
We proudly offer comprehensive products and services that meet your budget and timeline. We communicate throughout the entire process to ensure you are in the loop at every stage. Read on to learn more about our battery packaging features and benefits. 
Features and benefits
Our automotive battery packaging solutions are created with:
Twin-sheet construction, high-density polyethylene (HDPE) – Our engineers encapsulate steel inside the two sheets to provide greater performance and more stable packing.
Ergonomic options – If you desire optimal efficiency during the loading and unloading of the batteries, we can assemble the packaging with lift assist and handles to improve the ergonomics. 
UN certifiability – If required, we will design your battery packaging to meet the rigorous road impact testing requirements.
Ordering process
The battery packaging ordering process is a breeze. Here is what you can expect:
Initial inquiry – You will speak with a sales engineer or sales manager about your application and needs.
Concept – We take your engineer's math data and general design, if provided. Our engineering team then creates a conceptual design that also considers both the sideline display and how the supplier handles the batteries. Using advanced technologies like virtual reality, we will show you what the battery packaging will look like, piece by piece. 
Quote – Once we have your approval on the design concept, you will receive a quote that is inclusive of the design, materials, assembly process, desired hardware, total quantity, and other line items. 
Pattern and sample – We create a wood pattern of the agreed-upon design and create samples from the wood pattern. 
Initial test – We provide you with the samples made in the previous phase so that you can conduct preliminary testing. We want you to see, feel, and test the product before you approve it. 
Aluminum tool and pre-production sample – Upon receiving your feedback on the initial testing phase, we move on to creating the hard aluminum tool and run pre-production samples. At this time, any battery packaging that requires a UN certification will be prepared for testing.
Order completion – Once we receive the UN certification number, if required, we will complete and deliver your order.
When you choose us for your automotive battery packaging, you'll receive a dedicated project manager who is intricately familiar with your account. You will have a direct line of communication with this person to easily ask questions or get status reports along the way. If you're ready to learn more about the benefits of working with us, contact our sales team online or call 800.356.8150 today!