Meet this new plastic solution designed to prevent damage to FIBC loads.
Introduced in the 1950s, bulk bags – also known as flexible intermediate bulk containers (FIBC) or SuperSaks – were heavily adopted in the US during the 1980s. While most often used for cement and hazardous materials early on, bulk bags are now used for a range of industrial, agricultural, pharmaceutical, and other products. However, there hasn't been an effective solution for international and domestic bulk bag shipments – until now. We are one of the first in the market to devote engineering and manufacturing prowess to develop a plastic material handling solution for bulk bags.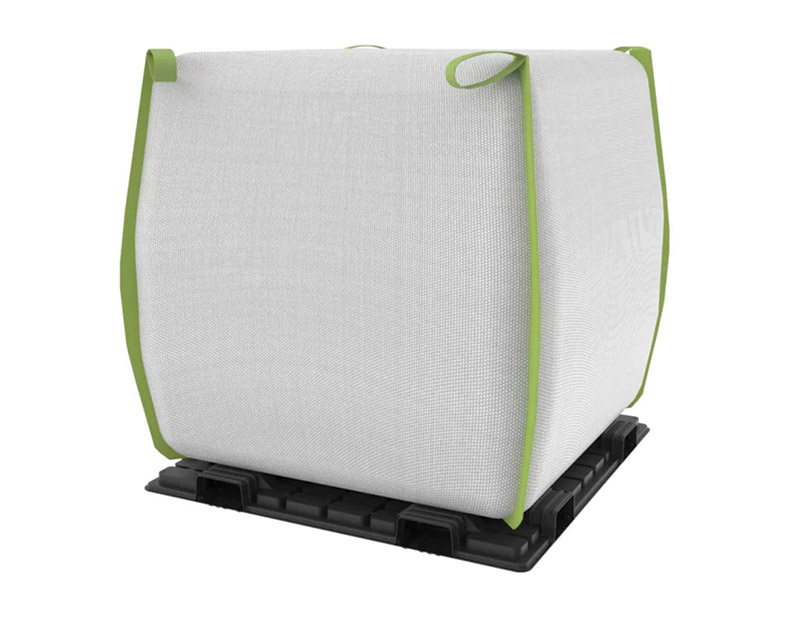 Today, TriEnda is now offering our new FIBC Bulk Bag Pallet. A unique shipping solution that safely transports goods at a price competitive to wood.
Why we created a plastic bulk bag pallet
The impetus of this new Bulk Bag Pallet stemmed from an astonishing increase in consumer demand. More and more of our customers were asking for better solutions than wood and cardboard, so we dove into the facts and found a gaping hole in the market. First, we discovered that organizations throughout the world use about 100 million bulk bags annually, and a 12 percent growth is expected each year as demand continues to increase.
As we investigated further, it was clear that international shipments were particularly problematic for companies using wood bulk bag pallets because they require fumigation. This added step means that plants must oversee and manage two SKUs: one for fumigated bulk bag pallets and another for non-fumigated pallets. Not only was this practice a hassle, but it was also costly. Some companies work around the fumigation requirement by using cardboard instead of wood, but many are disappointed when they learn that it goes limp quickly in any humid environment. 
Even when shipping non-fumigated wood pallets domestically, they can easily break and splinter. Any damage to the wood pallet also has the potential to cause secondary damage to bulk bag contents. Just one piercing to the bag can make cargo seep out, causing preventable product loss and damage. It was time for a better solution. 
When a plastics and resins client approached us and asked that we create a plastic pallet that works with bulk bags, we heeded the call. After designing and engineering our breakthrough concept, we successfully performed extensive and rigorous testing – and the new Bulk Bag Pallet was born!
Benefits of the Bulk Bag Pallet
Our Bulk Bag Pallet is like no other on the market today. If you're using wood or paper pallets for FIBCs, you could be putting your cargo at risk for unnecessary damage and increased costs. With plastic pallets, they don't splinter and aren't prone to breakage, like wood. Likewise, there are no nail heads, wood shards, or other potential hazards that could pose damage to your cargo and working environment. And if you use bulk bag pallets for international shipments –whether one- or multi-way – you don't have to fumigate plastic like you do wood.
Flexible shipments: Use our Bulk Bag Pallet for one- or multi-way shipments, whether domestic or international.
No fumigation: You do not need to worry about the hassle and cost of managing two SKUs in your facility. 
Cleaner: Our plastic pallets are easy to clean and do not harbor bacteria, making it useful for contaminant-free cargo. 
Lightweight: Our plastic pallet is less than 14 pounds, which is about 10 pounds less than traditional fumigated wooden pallets. 
No sharp edges: Nail heads and splinters in wood can pop holes in your bulk bags and spill the contents. Our plastic pallets are smooth all over.
Forklift friendly: A forklift can crack a traditional wooden pallet and pierce the bulk bag. Our pallets have an internal tunnel, so the fork tines only touch the plastic pallet and not the bulk bag. 
Stacking capability: Our Bulk Bag Pallets can even be double- and triple-stacked for efficient product storage.
See how our Bulk Bag Pallets stack up to its wood and cardboard counterparts:
Our Bulk Bag Pallet provides superior damage prevention on every shipment, which can have a tremendous impact on your bottom line. We even offer heavy-duty bulk bag pallet options that can be reused and will last for years to come!
Uses for our Bulk Bag Pallet
Use our Bulk Bag Pallet for safer, damage-free shipping of these and other types of cargo: 
Pet food
Paint
Petroleum
Plastics and resins
Construction products
Paper
Coffee
Chemicals
Grain
Cereal
Spices and salt
Agricultural feed
Beans
Rice
Potatoes 
This list is in no way inclusive. To learn more about our new Bulk Bag Pallets and how they can protect your cargo and boost your bottom line, contact our sales team at 800.356.8150 or reach out to us online today.