Find out which food and grocery pallets are right for your business.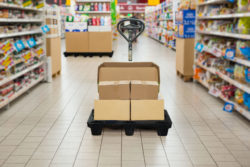 Consumers everywhere expect the food they buy for themselves and their families to be safe. As a material handling solutions company, we recognize the importance of keeping your customers and staff healthy and safe while maximizing your business's success. That's why we're always working on innovative new solutions to meet the needs of the food and grocery industries.
From hygiene and food preservation to tracking capabilities and environmental responsibility, we want to help you preserve your products, extend the shelf-life of precious fresh produce, and optimize your business operations. As such, our plastic material handling solutions include:
Durable and hygienic plastic pallets and trays
TruGrip™ anti-skid surface technology
Cargo protection systems
Tracking and tracing compatibility
Below, you can take a closer look at how our plastic material handling solutions are designed with the food and grocery industries in mind.
Durable and hygienic plastic pallets and trays
There are many reasons plastic is a superior material handling solution choice food and grocery pallets and trays. First, plastic is more durable and resistant to damage or impact from frequent reuse, giving pallets a longer service life and potentially lowering your total cost of ownership. In fact, plastic pallets can last up to 50 turns or even more in the right environment before they need replacement, compared with only 2-3 turns on average for wood pallets, which can easily splinter, warp, or become infested with fungus or insects.
Plastic pallets are also far more sanitary and easier to clean than wood pallets. Some hygienic benefits of plastic pallets for the grocery industry include:
Prevent moisture buildup
Resist contaminants such as mold, bacteria, or harmful chemicals
Respond well to temperature changes
Easy to safely wash, rinse, and sanitize
Can be used with hygienic plastic sleeves
Stand the test of time
Our nestable plastic pallets can be customized to fit your specific space and applications. Nestable pallets save valuable floor space required to stack and store pallets. They're lightweight, impact-resistant, easy to handle, and have ergonomic properties that improve handling safety. On top of durability and hygienic properties, our material handling solutions are also environmentally responsible. Through our Pallet Buy-Back Program, your plastic pallets and trays can be recycled at the end of their useful lifespan.
Non-Slip Technology
We're proud to offer our patented TruGrip™ anti-skid surface technology, which is available on select plastic pallets. Accidents and spills can cause injuries and cost money. The next-generation TruGrip™ technology uses a proprietary rubber-like material that prevents boxes from slipping and potentially damaging delicate cargo—like fruits, vegetables, or eggs. By increasing the friction between the top of the plastic grocery or food pallet and the load that's sitting on top of it, your cargo stays put while in transit.
Cargo protection system
Our exclusive Cargo Protect+ system offers cargo protection ideal for transporting perishable goods—from meat and dairy to produce—by rail, truck, and intermodal freight transport. Our systems are carefully designed to reduce product damage that is all-too-common during in-transit load shift. Cargo Protect+ offers superior protection at a lower average cost per load and can help with load optimization, injury prevention, and more.
Tracking and tracing compatibility
Our plastic material handling solutions allow businesses in the food and grocery industries to protect perishable foods and optimize inventory management through vital tracking and tracing technology. Our plastic food and grocery pallets can be embedded with RFID or IoT transmitters to work with compatible systems that help track inventory, monitor food temperatures, and more.

Our expert sales team can guide you through the wide variety of material handling solutions available for the food and grocery industry and help you select the best option to fit your specific needs. Let us put our experience to work for you today! Please contact our sales team online or call 800.356.8150 today to get started.