Start by incorporating reusable plastic pallets and crates into your supply chain.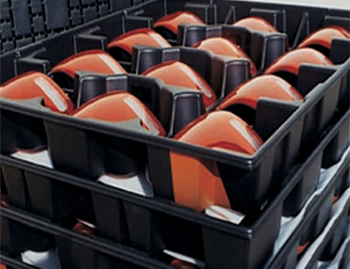 Many companies struggle with the economic and environmental impacts of one- or limited-time use expendable packaging. As such, automotive and other industries have been shifting to reusable plastic packaging because of the long-term cost savings and lower carbon footprint – not to mention better performance. If you're looking for ways to reduce expendable packaging, switching to reusable material handling solutions is the first place to start. Reusable plastic pallets and crates can help:
Maximize profits
Reduce waste
Increase performance
In this article, we'll cover more on the difference between expendable and reusable packaging, and the benefits of going reusable.
What is expendable packaging?
Expendable packaging includes materials such as cardboard and wood that have a short lifespan. Some can only be used once, while others may get a few turns out of them before having to be discarded and replaced. Expendable packaging increases waste throughout facilities and landfills, which pose critical environmental concerns. According to the American Forest and Paper Association, paper and paperboard containers and packaging waste accounted for over 40 billion tons of waste in 2017, a figure that can drastically lower if more companies adopted a reusable packaging mentality.
There are also performance and cost drawbacks to consider. Because of the disposable materials used in its construction, expendable packaging is not durable and often costs more in the long run as compared to reusable packaging.
What is reusable packaging?
Plastic pallets and crates are examples of reusable solutions that can help reduce expendable packaging in your supply chain. Our environmentally-friendly high-density polyethylene (HDPE) products come in single or twin sheet construction. Many are stackable, rackable, and nestable. They're easy to clean, weather- and impact-resistant, and come with a 4-way forklift and fork jack entry points. Available with TruGrip™ anti-slip surface technology, our plastic pallets and crates also help prevent cargo from slipping and sliding in-transit.
Our reusable packaging options are also returnable and recyclable through our Pallet Buy-Back Program. When your plastic pallets reach the end of their usable life, simply return them to us for recycling and credit toward a future purchase.
Benefits of replacing expendable packaging with plastic pallets and crates
Unlike expendable packaging that has a short lifespan, reusable plastic pallets and crates can be used up to 50 or more turns in the right conditions. Reducing expendable packaging and incorporating long-life reusable solutions instead provides many benefits, including:
Lower costs long-term when compared to disposable packaging products
Less environmental impact than expendable packaging 
More durability, thanks to impact-resistant HDPE construction
Stackable features help fit more containers per load
Nestable plastic pallets reduce the required storage space in your facility
Better ergonomics for workers with reduced risks for injury 
Learn more about switching to reusable plastic pallets, crates, and products on our blog.
When it comes to ways to reduce expendable packaging in your supply chain, switching to reusable plastic pallets and crates is the first step. To learn more about our material handling solutions for the automotive, food, and retail industries, contact our sales team online or call 800.356.8150 today to get started!