Discover how new technology helps upgrade the experience for our customers.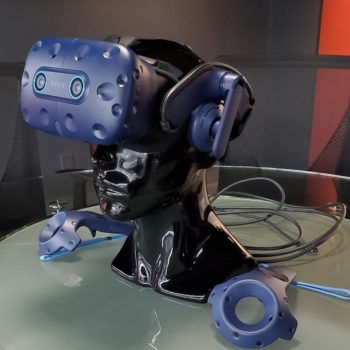 If we said that you could see your material handling solutions come to life before they are manufactured, would you believe us? We sat down with one of our Industrial Designers, Bradly Gravunder, to help explain how virtual reality is transforming the way our customers interact with new concepts and ideas. In this post, we'll dive into the benefits of virtual reality (VR) in industrial design, and provide insight into our process, the experience you can expect, and how we're putting VR to work.

But first, what is virtual reality? You may have heard of it in the realm of a video game or sci-fi movie, but VR is making its mark on real-life industries too. Essentially, it's a computer-generated iteration of a 3D object or environment that users can interact with in a seemingly "real" manner using goggles or other equipment. We recently invested in state-of-the-art equipment and programs to bring this technology directly to you.
Benefits of virtual reality in industrial design
As we incorporate virtual reality into our industrial design process, it has markedly enhanced the customer experience. Here are just a few of the benefits of this exciting new technology that Bradly and our team have identified:
Less money spent engineering designs, models, and prototypes
Reduced turnaround times, so you can review designs faster
See designs come to life in your specific environment and application, not stock examples
Easier to engage with the design process and enjoy the experience
More peace of mind that the finished product will suit your exact needs
Can be demonstrated virtually through video sharing tools like Skype or Zoom
Better still, every company and industry can experience these benefits. From automotive to grocery and retail to government – and everything in between – virtual reality in industrial design has no boundaries.
The virtual reality process
When we incorporate virtual reality into your next industrial design, here is the process Bradly and our team will follow:
We'll communicate with you to understand your design needs
We'll use 2D pen and paper sketches to wrap our heads around the idea
When the 2D design is approved, we'll create a 3D illustration and model it into CAD file
Finally, we import the CAD file into specialized software to create the VR experience
What to expect from the VR experience
The only way to understand the full magnitude of VR is to experience it for yourself. When the day arrives for your VR demonstration, we'll first set up a small 10×10 or 20×20 space to ensure you have enough room to move around and interact with your design. Then, you'll put on a headset with controllers. Using highly advanced software and systems to create the models and designs, we'll calibrate the space and initialize the virtual reality experience.
As Bradly explains, you will have the option of a simple VR experience, where you'll see an isolated 3D image of your product design. You can move, rotate, and flip the product to view all its features and specifications. Or, we can also step it up a notch by creating an exciting "wow" factor that makes the VR spatial-mind experience truly come alive. For instance, we can alter environments, scenarios, lighting, surfaces, colors, finishes, textures, and animation – all to fully immerse and engage you in every aspect of the design, as if it's a real object right there in front of us.
During your VR session, we move and rotate the design to ensure dynamic components will hit or interfere with other components. From there, we move on to prototyping and testing. 
If you'd instead like to experience your VR model virtually, we can also set up a simulated demonstration using video conferencing tools like Skype, Zoom, or Microsoft Teams.
Our VR in action
We first tested VR at the SEMA Show in November 2019, and it was a great success. There, show attendees experienced six different models in virtual reality. Since then, we've successfully demonstrated VR at other trade shows, including MODEX, as well as private customer demonstrations. To experience the benefits of virtual reality in industrial design, contact us to see which trade show we're attending next.
As your industry changes, we change right along with it. And virtual reality in industrial design is yet another way we're proving this to be true. We're continually investing in and launching cutting edge technologies that help us provide the products and solutions that meet today's ever-changing demand for innovative and cost-effective material handling solutions.
Reach out to us online or call us at 800.356.8150 today to discuss how we can use VR for your material handling solutions.