Learn about our cost-effective plastic products designed to protect your cargo.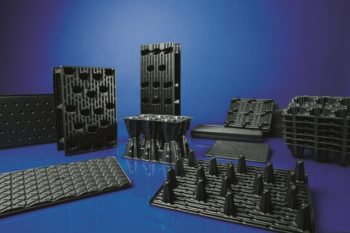 When it comes to material handling solutions for retail and government, we understand the importance of providing cost-effective options that will meet your specifications, timeline, and expectations. For over 40 years, we have listened to our customers' needs and have continually developed innovative solutions as these industries and their shipping requirements have shifted.

Today, we have a vast array of plastic material handling solutions for retail and government to meet the demands of an ever-changing market, including:
Big Pak® sleeve packs
Plastic pallets and trays
Cargo protection systems
Custom packaging and thermoforming
Read on to learn more about these material handling solutions for retail and government below.
Big Pak Sleeve Paks
Constructed of high-density polypropylene (HDPE), our engineering team designed the Big Pak collapsible sleeves and sleeve packs to be lightweight for better ergonomics. They also wanted them to be as low-profile as possible to help minimize storage space and reduce shipping costs. These material handling solutions for retail and government are even more appealing because they're recyclable and easy to clean. They can be used time and time again under the right conditions, which can drastically reduce your material handling product cost each year.

You can even customize the locking and sleeve options to ensure your Big Pak sleeve pack is fully customized to meet your specifications and budget.
Locking options – Choose between a traditional peanut lock or our Ever-Lok 2 locking feature, which eliminates the need for stretch-wrapping.
Sleeve options – With sleeve options like Fiberboard Z-Fold, twin-sheet thermoformed, and fluted plastic, we can engineer the Big Pak you need to transport your cargo safely.
Plastic pallets and trays
Your dedicated sales representative or project manager will help you determine the best plastic pallets and trays for your specific retail or government application. We'll guide you through the product selection process with a series of questions that will point us to the best material handling solution for you. These questions may center on your weight requirements, current cargo handling conditions, interfacing equipment like conveyors, load configurations, fork and floor ratings, and size and footprint needs.

When we've gathered all the information we need, we'll suggest a weather- and impact-resistant plastic pallet or tray option, such as:
DC Pallet – HDPE, twin-sheet construction, fully nestable, ISPM 15 Exempt
Tough Pallet™ – HDPE, single-sheet construction, first rackable nestable pallet, ISPM 15 Exempt
Bulk Bag Pallet™ – HDPE, stackable and conveyable, ISPM 15 Exempt
Thanks to the availability of our TruGrip™ anti-skid surface technology on select pallets, we are revolutionizing material handling solutions for retail and government – and other industries – by preventing cargo damage from slipping and sliding.
Cargo protection system
When transporting fragile or perishable goods, Cargo Protect+ is our proprietary cargo protection system that provides superior product protection via truck, rail, and airfreight. These systems help decrease damage to your shipped products, which can dramatically reduce the average cost per load. This award-winning cargo protection system replaces plywood and corrugate materials to prevent the toppling of cargo so that your goods remain protected while in transit.
Custom packaging and thermoforming
Are you a retailer or government representative who needs a custom material handling solution? We customize products to your specifications while offering innovative protection to overcome any design challenges you may face. Ask us about our custom blend plastics that provide more secure part holds, scratch resistance, and more.

Strategically located in the Midwest, we work hard to provide the best possible material handling solutions for retail and government. We are proudly ISO 9001: 2015 certified, so you can trust that we engineer plastic products that meet the strictest quality control standards. With one of the largest in-house creative engineering teams in the country, we are innovative leaders in technology and design.

Let us put our experience to work for you today. Please contact our sales team online or call 800.356.8150 today to get started.