Get to know the instrumental women working at our plant.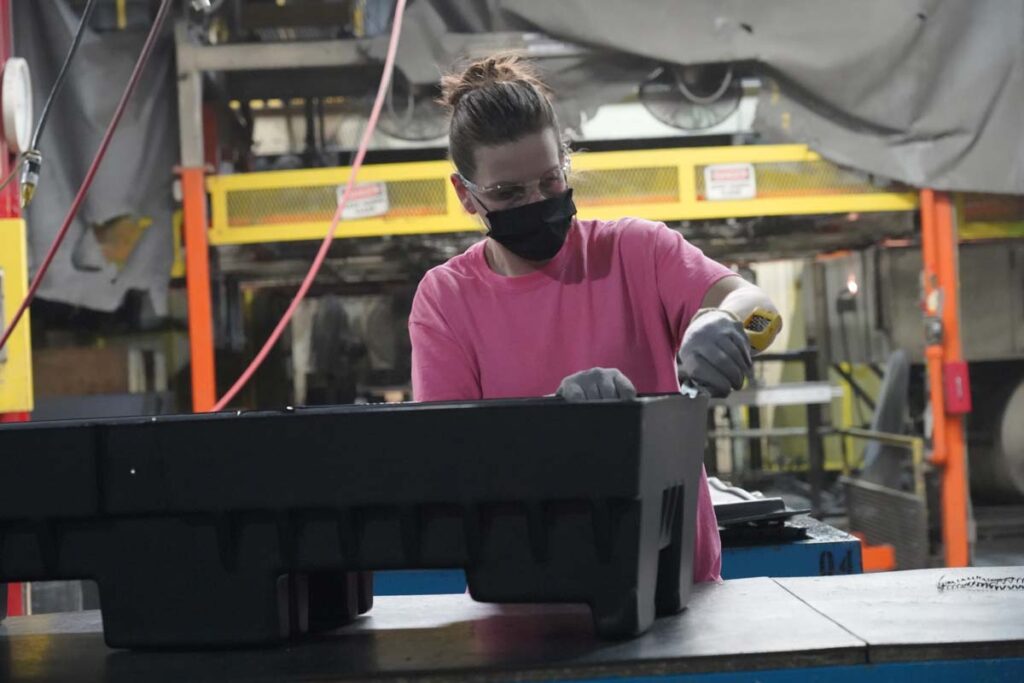 International Women's Day is a global celebration of women and all they do. Whether family, friends, or colleagues, their contributions help enhance our lives and communities.
In a study conducted by the United States Census Bureau in October 2017, nearly one-third of the individuals working in the manufacturing industry are women. As more young girls are introduced to STEM, it is expected that the number of women in manufacturing will increase over the next decade.
As a plastics manufacturer dedicated to the continued growth of women in manufacturing, we honor our female team in this tribute featuring their own words.
What have you accomplished at TriEnda that makes you proud?
I worked my way up from finisher to QA Tech.
– Ann G., Quality Assurance Technician
I've learned to not doubt my abilities.
– Joan V., Finisher
It makes me happy to work on something I had never done before and to get the job done.
– Karla C., Finisher
I proved to myself that I can work hard and do a good job.
– Tisha C.
I am proud to have come this far in the two years I've been here, and I strive to go farther. I encourage other employees to do the same.
– Emma Z., Finisher/QA Backup/Trainer
I completed my Executive Master of Business Administration in May 2019. This would not have been accomplished without the help of my team. They stepped up and made sure the plant was running efficiently so I could do the things I needed to do for school.
– Sue M., VP of Operations P3  
Name one or more women who inspire you. Why?
Tina Hansen: she is a dear friend! Tina battled cancer and is currently in remission. She still has difficulties from the many surgeries she had but still finds time to run her business, The Dance Club. This winter, she held the Nutcracker Ballet consisting of her group of students to perform multiple places and many different days. She also has rental places and works non-stop fixing them up with her husband. Furthermore, she is a fellow equestrian competitor who encourages people and finds the good in everything.
– Ann G., Quality Assurance Technician
Sue Malkowski: she has a direct leadership style and is a savvy problem-solver.
– Melanie H., Marketing Manager
Princess Diana: she always helped people.
– Joan V., Finisher
Theresa: she is very disciplined and respectful in their work.
– Karla C., Finisher
My mom: she is a superhero!
– Tisha C.
My mother, Susan: she inspires me every day! She is the kindest, hardest working woman I know. She has worked hard and overcome so many things to get where she is in life now, while providing a loving environment for her family at the same time.
– Emma Z., Finisher/QA Backup/Trainer
Ruth Bader Ginsburg: she has always fought for women's rights. Kelly Noel: she doesn't sugar coat anything. She pushes you to be your best and to fight for what you deserve.
– Sue M., VP of Operations P3
What advice do you have for other women who want to work in the plastics manufacturing industry?
Never give up. Show your dedication and desire, and it will get noticed. 
– Ann G., Quality Assurance Technician
Find mentors that are both male and female in the industry. Be confident and resolute in your actions.
– Melanie H., Marketing Manager
Always be open to learning and do not feel less capable than men.
– Joan V., Finisher
They must have consistency and want to learn new, disciplined, and respectful things every day. They must have the desire to climb higher every day and achieve their goals at work.
– Karla C., Finisher
They must be very careful to avoid accidents and be a good companion.
– Tisha C.
Work hard and never give up.
– Emma Z., Finisher/QA Backup/Trainer
Know your materials, be prepared, be confident, stand your ground, find a mentor or two, and above all else, LISTEN.
– Sue M., VP of Operations P3   
Benefits of hiring women in manufacturing
We are proud to have a team of women working to improve our processes and material handling solutions for our clients. Here are five benefits that all plastics manufacturers and other industry organizations can experience by hiring more women in their plant:
1. More innovation
Manufacturers with more gender diversity report better company performance in the area of innovation. When you have the industry's best minds working for your organization, the possibilities are endless.
2. Diverse perspectives
Inviting more women to share their perspectives on new ideas and strategies can help your manufacturing company broaden its horizons and grow.
3. Lower turnover rates
Researchers have also found that both male and female retention rates are positively affected by their perception of a gender diverse manufacturing environment.
4. Gain a competitive edge
By retaining more women in your workforce, you can build a strong team that can go head-to-head with your competition. You will attract the best individuals that may have otherwise turned to a different company that has a strong, diverse team.
5. Leverage untapped potential
The next great idea for your company may come from a female hiring candidate who may have equal potential to suggest tools and solutions that will help your organization grow and scale.
A few of the ways to attract more women in manufacturing include:
Narrow the gender gap
Increase the visibility of female leaders
Implement retention strategies that promote flexibility, benefits, and a positive culture
Women in manufacturing can help propel the industry forward with new ideas that can improve products, services, and efficiency. We salute the forward-thinking women in our plant as we look forward to continued growth and innovation.
To learn more about our material handling solutions, call 800.356.8150, or reach out to us online today.