Learn about our latest state-of-the-art design tools and software that save time and money.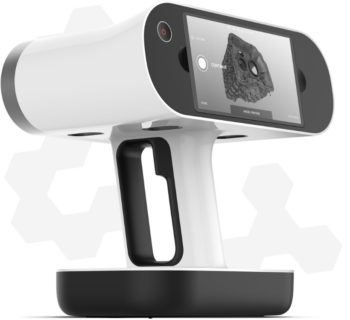 When it comes to innovation and creative designs, you'll be hard-pressed to find a plastics manufacturer that is more dedicated to evolving along with you than us. We don't subscribe to the tired TITWWHADI (This Is The Way We Have Always Done It) business theory. Instead, we listen to both the diverse perspectives of our team and customers to ensure that our tools and processes help us deliver the best material handling solutions available.
With an openness to new ideas, it wasn't even a question whether to invest in the latest state-of-the-art 3D handheld scanner and advanced design software that would help upgrade our reverse engineering process. We caught up with one of our Design Engineers Tom Bloom after receiving his certification in Geomagic Design X software using the advanced Artec Leo 3D scanner to learn more about how these tools are enhancing our reverse engineering process.
Our new reverse engineering technologies
Artec Leo is a handheld 3D scanner that has a built-in computer and screen. It allows our team to take real-time images of your products. Whether you have custom plastic pallets, trays, crates, or another product, we can scan the image to help expedite the reverse engineering process. Tom noted that what makes this scanner truly special is its onboard automatic processing, which builds a 3D mesh format replica of your product in real-time. Artec Leo the first product of its kind to offer this technology, and we're one of the only plastics manufacturers currently utilizing this game-changing tool.
GeoMagic Design X is a comprehensive reverse engineering software that pairs with the Artec Leo 3D scanner. It combines history-based CAD with 3D scan data processing to help us deliver broad design capabilities and accelerate the time between initial concept and final design.
How we use these reverse engineering technologies
As a leader in innovation, Tom and our team have already put the new scanning technology and design software to use in our reverse engineering process with projects such as:
Existing part replication
If you have an existing part without a tool from another manufacturer that you can no longer order, we can use our new tools to expedite the reverse engineering process within a quarter of the time it would typically take to complete by hand. 
Automation compatibility verification
If you have automation in your supply chain, our latest tools can provide peace of mind that our products will work in your current flow without any disruption. We scan your turntables, belt drive, chain drive, conveyor system, and other components to gather the data we need to create products that work with your system. 
Performance demonstrations
The tools we use in our enhanced reverse engineering process help us take the CAD model of your cargo and place it in our new product design. You will see firsthand how your cargo will fit with our material handling solution before you place an order. 
Complex and large-scale designs
Because our 3D scanner can reverse engineer entire vehicles and other large objects, we can expertly customize design accessories. Our sister company, Penda, uses this capability for its automotive customers that need items like custom bed liners. 
As Tom described, the first customer to try out our enhanced reverse engineering process was a major automotive OEM. They had an old tray that fit their exact needs, but they could no longer purchase it from the original manufacturer. Our 3D scanner and design software helped us efficiently reverse engineer the tray so that we could design and manufacture a replica. 
Benefits of our enhanced reverse engineering process
Thanks to our state-of-the-art 3D scanner and advanced design software, our reverse engineering process provides an array of benefits, including:
Mobility: We can go directly to your location
Versatility: Nearly any thermoformed product is compatible with this scanner
Accuracy: Our designs are within 0.030 accuracy  
Efficiency: Our reverse engineering process is 75% faster than traditional methods
Cost-Effectiveness: With less time spent on engineering hours, we pass our in-house savings on to you
Not only are we continually working to improve our reverse engineering process, but we also recently acquired new VR technology  that makes interacting with your designs more engaging and life-like. Contact our sales team online or call 800.356.8150 today to learn how we can design better material handling solutions for your organization!