Provide these critical criteria before you order to ensure you get the right product – and price – for your end use.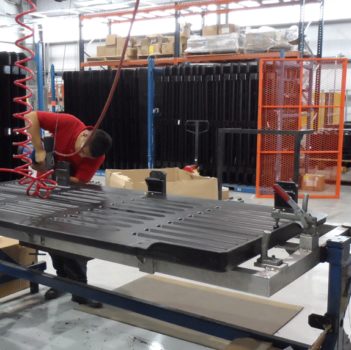 When it comes to making the switch from wooden to plastic pallets, you may find that an in-stock, ready-made product delivers exactly what you need. However, many companies rely on custom plastic pallets to safely and effectively ship their cargo from destination A to B. In those cases, certain inputs can help custom plastic manufacturers engineer and produce the right product for your intended application at the best price.
In this post, we'll cover a few of the design inputs we need to know – and can help you find out if you're unsure – to optimize product performance and your bottom line, including:
Industry and product use
Cargo weight
Load types and configuration
Required options and features
Interfacing materials handling equipment
Identification and tracking technologies
Functionality
Other considerations
Keep reading to learn more about these design inputs so that you can make a smart investment for your supply chain.
Industry and product use
Your industry and intended application arguably play the biggest role in the engineering and design of your shipping pallets. Clients in the automotive industry require certain engineering customizations to ensure parts are shipped safely to assembly and manufacturing centers. For instance, ventilation, drain holes, and leak containment features can help manage airflow, gas, and fluids.
Cold chain logistics managers rely on the hygienic benefits of plastic pallets for the grocery industry for contaminant-free goods. And government agencies or retail chains such as the US Postal Service and Ace Hardware have other unique industry and product specifications that help determine the design and engineering process that will yield the best materials handling solution for their needs.
Cargo weight
Single sheet, single sheet with reinforcement, and twin sheet thermoformed plastic pallets are available to accommodate virtually any load weight. From lighter weight applications under 1,500 lbs. to heavier weight loads up to 4,000 lbs., providing this input will help our team determine the best construction option for you. Learn more about single vs twin sheet plastic pallets on our blog.
Load types and configurations
When it comes to loading plastic pallets into vehicles, aircraft, and water vessels, each requires different pack and container considerations, which will impact the design. Also, let your plastics manufacturer know whether the shipping method will be FCL, LTL, bulk, or another cargo size. These considerations help our large team of engineers design the materials handling solution to meet the logistics of your load types and configurations.
Interfacing materials handling equipment
Most materials handling equipment is designed for use with wood pallets, so it's essential to consider them when placing a custom pallet order to ensure we engineer a plastic product that's compatible with your system. Your pallets can be engineered with a rack notch, machine grip, wings, various entry measurements, and other customizations. Investing in plastic product prototyping and testing can help you smoothly ingrate plastic pallets into your supply chain.
Identification and tracking technologies
Will your cargo have identification or an RFID tracking system? Tailored design features such as color, labels, hot stamp, encoder, or logo printing are available to add to your custom plastic pallet order to make identifying and tracking a breeze.
Functionality
Because you can customize plastic pallets to your specifications, they can feature virtually any functional modification that will help improve the efficiency of your supply chain. Features such as gates, leg covers, stiffening substrates, flame retardant, and TruGrip™ anti-slip, are just a few of the options that will enhance the performance of your pallets. You can even add hand holds to make your pallets even more ergonomic for cargo handlers.
Other considerations
Additional design inputs may include the intended environment of your pallets, including a freezer or oven. And unstable loads may benefit from load stabilizing features such as restraining belts, sleeve locks, or band grooves. Finally, your aesthetic design preferences and requirements can help you receive attractive pallets that align with your brand image.
These are just a few of the design inputs plastic pallets manufacturers need to know before placing your order. The more information you provide to custom plastic pallets manufacturers, the better you can expect the final product to perform.
To help determine the plastics shipping pallets your business needs, contact our team online or call 800.356.8150 today!