Take a sneak peek into some of the ways we're upgrading your experience even more.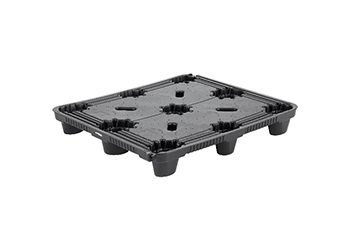 As we settle into this new decade, we are excited to announce innovations and endeavors geared to improve your bottom line and upgrade your experience even more. We have made such decisions not only to provide the best material handling solutions possible but also because we're evolving right along with you. We're investing in the latest technologies and plastic product masterminds to help us remain at the cutting edge of our industry. And because we never forget our dedication to providing an unsurpassed values-based level of service, we'll continue to meet and exceed your expectations at every turn. 
A few of our exciting announcements include:
New product developments
Growing dynamic team
New system launches
Studio 540 opening
Keep reading to learn more about these exciting changes that are sure to deliver unmatched innovation and service.
New product developments
This year, we are announcing three new material handling solutions that will help make it easier, safer, and more cost-effective to transport your precious cargo from point A to point B. Our team of advanced innovators has been working diligently to create these new product lines because we are always looking for new ways to improve our offerings. 
Stay tuned for more information on these new products.
Growing dynamic team 
As we announce the new name of our parent company, Kruger Family Industries (KFI), we are proud to bring on additional leading experts to our already dynamic team of plastic manufacturing professionals. Our growing staff means that you can expect faster responses to your inquiries. And you can feel confident that every ounce of input is coming from some of the most knowledgeable sources in the industry.
New system launches
We have recently launched a brand-new ERP system to help streamline our entire organization. From the front of the house to the backend operations, our facilities can now be fully leveraged to get information to you more efficiently than ever before. This new system means you do not need to wait for responses, and you can be confident that the information you receive is not only timely, but also accurate.
We are also launching a new quoting system soon to ensure that you receive precise project quotes even faster than ever before.
Studio 540 opening
Studio 540 is one of our most exciting announcements! This studio is designed to provide an immersive experience for your in-depth automotive and OEM concepts. Here, material handling solutions are designed and then virtually dropped into the vehicle via pen and paper software to simulate the results. Customers who want the full experience can put on a virtual reality (VR) headset and see their designs in action.
We expect a bright outlook for 2020 and the decade ahead. Between our new material handling solutions, dynamic and growing team, efficient systems, and technologically advanced simulations, we can better serve your needs because we are committed to your success. A partnership with TriEnda is one you can trust because our entire team is dedicated to providing the best products and services for your application and budget.  If you have any questions or need to run a concept by us, we are here for you. Contact our team online or call 800.356.8150 today!