Discover ways to save space, money, and enjoy other perks of nestable plastic pallets.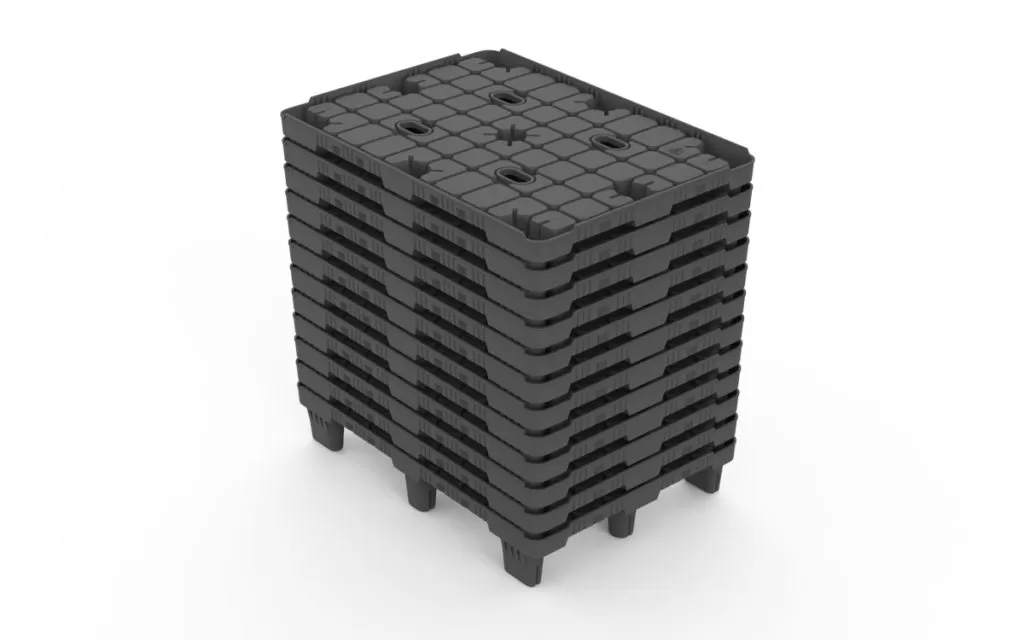 When it comes to freight and shipping methodologies, nestable plastic pallets are becoming an increasingly preferred option for many industries, including food and beverage, automotive, retail and government, and others. These reusable pallets offer a variety of benefits to companies that directly impact day-to-day operations and the bottom line, including:
Space efficiency
Cost savings
Easy to work with
Customizable options
Read on to learn more about the benefits of nestable plastic pallets and why they might be the right fit for your supply chain.
Space efficiency
Stacking and storing traditional pallets can take up valuable floor space in your warehouse and cargo transport vehicles. However, nestable plastic pallets eliminate the volume required to store the pallets because you can stack or "nest" them together. This space savings help you store more pallets at safe heights, helping to optimize floor space.
Cost savings
Empty nestable pallets take up far less space on return trips, so you can expect to see reduced freight costs after unloading cargo. In addition to lower freight costs, you can also expect to order pallets less often. Our fully nestable plastic pallets are reusable and offer a far longer useful life than wooden pallets, which can result in measurable cost savings throughout the year.
Easy to work with
One of the greatest benefits of nestable plastic pallets is the ease of use for anyone that interacts with the pallets. To start, they are lightweight and easy to handle, so your warehouse and loading teams can handle more pallets with less effort. And because our nestable pallets are engineered with thermoformed high-density polyethylene (HDPE), they are also:
Easy to clean: Our plastic pallets can be rinsed, washed, and sanitized without compromising integrity or performance.
Incredibly sanitary: The plastic material does not encourage microbial growth, making them ideal for industries such as grocery and pharmaceuticals.
Weather resistant: Plastic pallets can withstand virtually any weather conditions without resulting in any damage.
Impact resistant: Thermoforming produces the most impact-resistant products available, making our nestable pallets ideal for a variety of industries.
Recyclable:
At the end of their useful life, our nestable plastic pallets can be recycled into new ones. When you return the pallets, a credit is applied to your account toward the purchase of new ones.
Customizable options
When it comes to shipping materials, nestable plastic pallets are some of the most customizable options on the market. Depending on your application, pallets can be engineered with single or twin sheet construction in a variety of dimensions and options, such as adding TruGrip™ anti-skid material, leg drain holes, custom logos, and color stripes.
Nestable plastic pallets can help save space and money, offer a seemingly endless array of handling benefits, and are customizable for your specific application. Contact our team online or call 800.356.8150 to learn more about the nestable plastic pallet options that will work for your business.