Discover the differences between these two thermoformed construction options to find the best fit for your application and budget.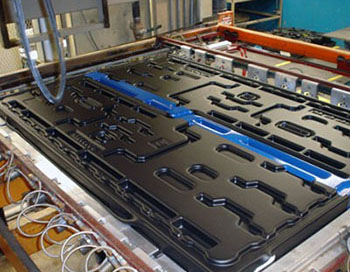 Our plastic pallets are engineered with proprietary resin blends, some available with our patented TruGrip™ non-slip technology. Whether you're in the automotive, food and grocery, or retail or government industry, there are two different thermoformed construction options to better serve your material handling needs: single and twin sheet plastic pallets. Our clients often ask which one is best for them. Both options have their unique benefits and ideal uses, and the best choice depends on several factors that we've outlined below.
First, we'll start with the basics.
Single vs twin sheet plastic pallets: what's the difference?
With platen size capacity – the largest in the industry – our single and twin sheet thermoforming processes are completed in-house. Keep reading to learn the differences between them.
Single sheet thermoformed pallets
Single sheet pallets consist of one extruded sheet. The sheet is heated to a specific temperature and positioned over a mold. The perimeter of the sheet is sealed before the air is evacuated out. Then, atmospheric pressure is applied to conform the sheet to the surface of the mold. During the process, plugs stretch the heated sheet and create vertical wall thickness. These plugs are used to ensure specific critical areas have the correct material distribution. Single sheet construction is advantageous because of the low-cost parts and tooling, partially encapsulated substrate (optional), and a wide array of options that can be applied to the extruded sheet. 
Twin sheet thermoformed pallets
Twin sheet pallets are created with two individual sheets and two different molds. Once both sheets are heated, each one is placed on its own mold. The sheets and molds are positioned horizontally above one another. Then, the two heated sheets are combined to form a single item. If additional strength is required, a stiffening substrate is placed between the two sheets and secured during the welding step. With twin thermoforming (TFF), the materials have a high material distribution efficiency. Since the two sheets are engineered and molded separately, the pallet is lightweight, durable, and high performing.
What is your cargo weight?
The first consideration when deciding between single and twin sheet plastic pallets is your cargo weight. The following are references to consider for your application:
Use single sheet pallets for: Lighter weight applications (0-1,500 lbs.)
Since there is only one sheet involved in thermoforming single sheet plastic pallet, they are typically used for relatively lightweight applications under 1,500 lbs. It is possible to add an exposed stiffening substrate to the top or bottom deck of the pallet to increase the strength and reduce the deflection of the pallet.
Use single sheet pallets with reinforcement for: Middle-heavy weight applications (can dynamically hold up to 4,000 lbs.)
Reinforcing single sheet pallets can make them ideal for applications that are in the middle to heavy-weight category. For instance, our Tough Pallet features proprietary molded-in steel reinforcement that eliminates any unsanitary hollow areas, making it ideal for food, pharma, and other industries.
Use twin sheet plastic pallets for: Heavy-duty applications (1,500 – 3,000 lbs.)
Since two sheets are used to create twin sheet pallets, they are well suited for any application. Typically, twin sheet pallets are used in heavier-duty applications up to 3000 lbs. These pallets are often best for delicate cargo since they are incredibly strong and durable. If a stiffening substrate is encapsulated between the two sheets, the pallet will have greater integrity and strength, and less deflection. Since the stiffening substrate is added directly between the sheets during the production process, it is not exposed. 
What is the end use?
Another factor when determining whether single or twin sheet pallets are best for you is the end use. For instance, if you're in the food and grocery industry and you need the pallets to be food grade, single sheet is your best bet. With this pallet, there are no hollow areas that could promote microbial growth. Learn more about the hygienic benefits of plastic pallets for the grocery industry here.
How will the cargo be loaded?
While cargo weight is one factor to consider when deciding between single vs twin sheet thermoformed pallets, also think how the product will be loaded onto the pallets. Will you use forklifts and pallet jacks? Ensure you choose the right construction to remain within the maximum allowable deflection of 1.5˚ when accounting for load weight distribution, extreme temperatures, pallet overhang, fork penetration onto deck surface, and the fragility of your cargo. Our sales team can walk you through these and other cargo-loading considerations to help determine whether single vs twin sheet construction will perform best in your environment.
What material handling equipment will interface with the pallets?
When it comes to single vs twin plastic pallets, you'll also want to choose the best construction for your material handling equipment. The goal is to select the one that will minimize deflection while safely supporting a unit load over clear spans, such as rack beams, conveyors, and other mechanized equipment that do not fully support the pallet. As a pallet is suspended, the resulting deflection decreases the fork-entry window, making access more critical. Suspension can also reduce the available equipment clearance. We can help you choose the right thermoformed construction option for your equipment and ensure they integrate smoothly into your existing processes.
What is your budget?
Another important factor to consider is your budget. Depending on all the factors above, it's possible to customize single and twin sheet to align both with your needs and bottom line. TruGrip anti-slip technology, molding, and stiffening substrates are just a few of the customizable features available on most pallets that can influence the performance and price. Our sales team can help you weigh the two construction options and provide a cost-effective solution that works with your application, existing processes, and equipment.
These are just a few of the factors to consider when deciding between single vs twin sheet thermoformed pallets. To ensure the best construction for you, we encourage plastic pallets prototyping and testing in your environment to verify performance in your supply chain and safeguard your investment. Contact our sales team online or call 800.356.8150 today to get started.