Join us to explore the ways that employees can grow their careers with KFI!
Joining a new company as an entry-level employee with large career aspirations can feel daunting, luckily companies like ours foster growth in the professional space. Many of our current managers began in a different position with our company and have expanded their knowledge in the industry and demonstrated a strong work ethic which moved them into managerial roles. Join us as we explore the ways that an employee can grow their career with KFI!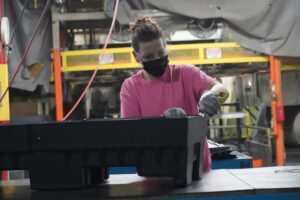 Attitude Counts
Our Vice President of Operations at Penda, Mike Johnson, shared some advice he learned over his 43 years with KFI moving from an entry-level grinder position to the executive team, "Show interest and take initiative in what we do, go the extra mile and do extra without being asked. Don't be afraid to fail, just learn from it."
The More You Know
"One of my biggest pieces of advice is that knowledge of the company and what we do is POWER. Learn as much as possible," Materials Planner, Ryan Manthey said. Ryan started with KFI as a finisher on the plant floor and has since moved to an extremely important position as our Materials Planner. With 20 years of experience, Ryan has extensive knowledge about our company and industry, and he says that learning and knowledge are the most important parts of being able to move your career forward. "Learning as much about everything is a great way to move up. To be what we call a 'Swiss army knife' is a huge deal around here. At the end of the day understand that hard work will pay off if the motivation matches the work."
Ambition is Key
The most vital part of moving up in KFI is the want to do so. "Never be afraid to apply for an open spot, the answer is always no if you don't try. KFI likes to hire from within for advancement," Lead Operator and Trainer, Wendy Baker said. Starting as a Finisher 12 years ago, Wendy displays the qualities of ambition, drive, and dedication that KFI looks for in employees and quickly moved up to a trainer role.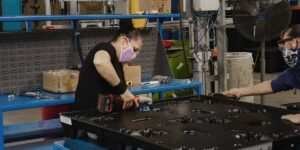 Make a Plan With your Supervisor
"Make sure people know you want to grow. Push your manager to have a plan to continue progressing towards this goal. Always keep a positive attitude," Vice President of Operations, Sue Malkowski said. Sue started as a Scheduling Supervisor with TriEnda in 1998 and moved up to become a member of the executive team. She says the most important qualities she looks for in an employee are good leadership skills, a sense of drive,  a positive attitude,  and integrity. 
Every single one of the employees featured in this blog has moved up in KFI, become successful, and helped to make KFI a great place to work. We will leave you with one final piece of advice from Mike Johnson, "Do the right things for the right reasons." If you are interested in working with our team at KFI apply today!