What is Steel Racking?
To keep it simple, steel racking provides strength to ship and protect an item during travel. Due to their strength and durability, steel racks are designed for large and heavy items. These features make steel racks the most efficient way to transport automotive parts safely and efficiently. Automotive parts that utilize steel racks include sheet metal, general assemblies, tires, engines, transmissions, etc.
TriEnda provides custom-designed steel racks for the automotive industry. With TriEnda's extensive design and engineering capabilities, we create solutions for the automotive material handling industry.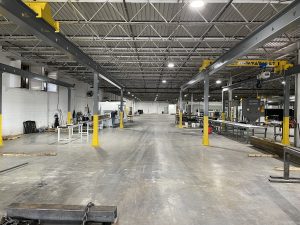 Steel Racking Industries
Automotive is a very popular industry that uses steel racks. This is due to the size and weight of the products they are shipping. However, there are many other industries that can experience the benefits of steel racks as well. Some of these industries include agriculture, construction, railroad, aerospace, bakery, medical, industrial equipment, and many more.
Similar to the automotive industry; the agriculture, construction, and aerospace industries are continuously shipping large, heavy equipment. The equipment involved in these industries is very expensive. Steel racking provides a heavy duty and durable solution to ensure these expensive parts are being handled with the best care. Steel racks allow companies to feel confident knowing their products will be protected and safe during shipping.
Metal racking provides benefits outside of just protecting and shipping loads. Industries like medical and bakery use steel racks for organization, storing supplies, and easily transporting products around the facility. Metal racks are highly used in these industries because they provide an efficient and sanitary solution.
Features and Benefits of TriEnda's Steel Racking Facility
TriEnda's steel racking facility spans over 85,000 sq ft. Providing many opportunities to take on the biggest jobs. Located in the heart of Texas, its ideal location reduces freight spend to southern and western locations by up to 75%.
When it comes to experience, the TriEnda team is truly unmatched. With over 40 years of experience in the steel material handling industry, the TriEnda team is constantly working towards groundbreaking revolutions.
TriEnda prides itself on prioritizing innovation and technology. This is why we are constantly investing in the latest and greatest software. Below are tools used at our steel racking facility to ensure we are providing customers with top-tier products.
Keyence WM Handheld Coordinate Measuring Machine (CMM)
Handheld, Probe style CMM
Portable to be moved throughout shop floor, setup in minutes
Measure over 49' with repeatable accuracy of +/- 10 micrometers
Photos of every measurement for easy-to-read quality reports
BLM LC5 Combination Tube & Plate Fiber Laser
6kW cutting head
5' x 10' plate capacity with automatic pallet changer system
Automatic bundle loading on the tube side, 27' in max length and 14' finished part max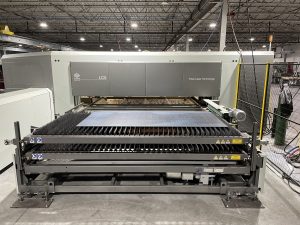 Along with steel racking, TriEnda is a global manufacturer of thermoformed plastic packaging and material handling solutions. As the industry's largest thermoformer, we lead the market in providing single and twin-sheet thermoformed plastic solutions to the material handling and packaging industries.
LEARN MORE about our custom steal racking solutions for automotive material handling