Why TriEnda's Small Format suite is a must have material handling solution for tight spaces.
TriEnda specializes in all kinds of material handling solutions, making everything from cargo protection systems to battery packs, and now small format delivery materials. When our salespeople noticed a need for a small format pallet and delivery transportation device, we began working with our design engineers to create the Delivery Cart and Small Format Pallet.
TriEnda's Delivery Cart is thermoformed with twin sheet construction to stand up to heavy delivery while maintaining a low profile and lightweight design. This makes it ideal for small areas and difficult deliveries like tight doorways, coolers, freezers, hallways, and aisles. "We are really trying to improve on existing products. Smaller stores are becoming a trend and we needed platforms to help our customers perform these types of deliveries." TriEnda food & beverage industry sales rep, Brian Estes said.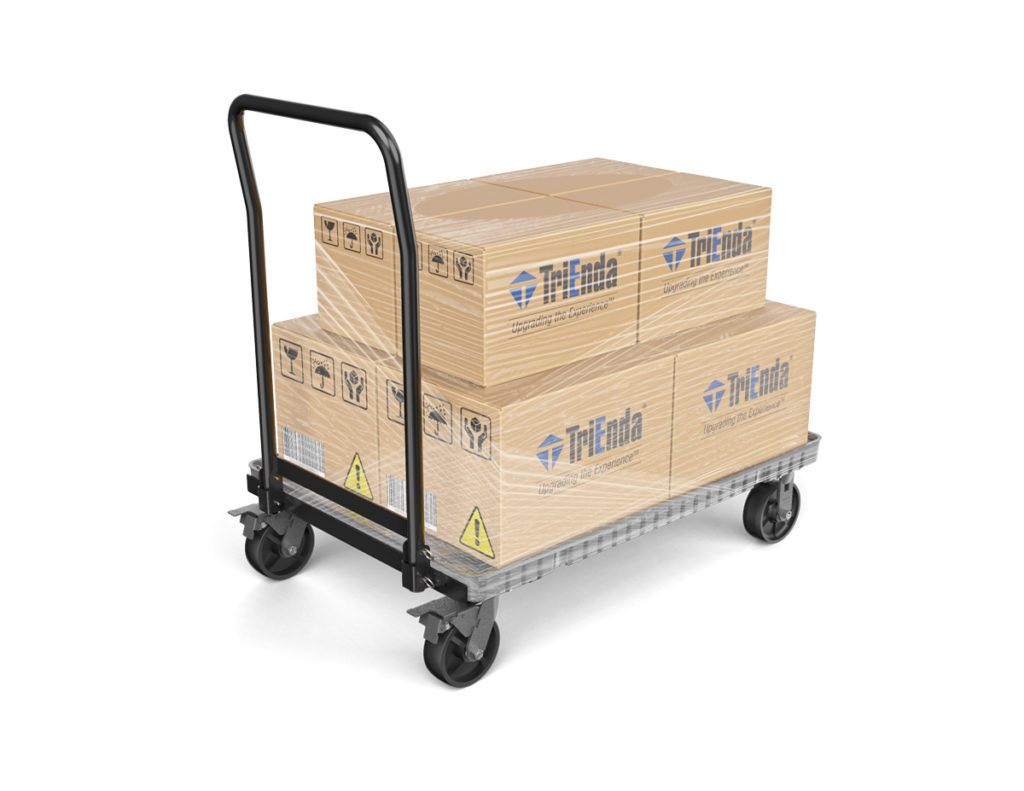 Additional design features like the perimeter lip and Tru-Grip™ anti-skid surface keeps products stable and prevents slippage. Along with these product protection features; the Delivery Cart includes a uniquely designed, self-storing handle that conveniently folds into the deck when not in use. This means that the small spaces where these would be used were kept in mind for storage purposes as well.
The Delivery Cart is accompanied by a Small Format Pallet which has also been specifically designed for tight spaces. This pallet is made with TriEnda's single sheet thermoforming process and provides the strength of a TriEnda pallet while still incorporating light weight design. With a narrow deck, perimeter lip, and our Tru-Grip™ anti-skid surface, the Small Format Pallet is perfect for reducing product damage and allowing quick transportation in small spaces. "As supply chains continue to evolve we are focused on finding ways we can help our customers improve delivery times, retain drivers and increase overall productivity.  Our small format suite of products has helped change how people view their business from end to end.  We want to be the leader in reducing transportation dollars," TriEnda grocery industry new product development representative, Jake Heinecke said.
With a 30×42 inch footprint, this Small Format Pallet works well in industries like grocery, retail, food and beverage, manufacturing, pharmaceutical, and many more. Pairing the Delivery Cart and Small Format Pallet together in these industries creates a safe, light weight, and quick solution to your small space material handling needs.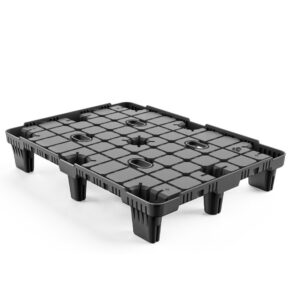 Whether you're working with a space that doesn't have a loading dock, a store with aisles too tight to get a normal pallet through, or a retail environment where you have a tight storage space, this small format duo from TriEnda is the solution to all of your small-space problems.
Reach out to our sales team today
to see how the Delivery Cart and Small Format Pallet could work for you!