Discover the advantages of the dependable TriEnda BigPak® Sleeve Packs.
Among many of TriEnda's durable, HDPE, material handling solutions are our BigPak® Sleeve Packs. These reusable bulk containers lower costs and improve convenience with lightweight sleeves and interchangeable pallets and lids that are available in six sizes and configuration options. Discover the features that make the BigPak® the top-of-the-line sleeve pack in the industry.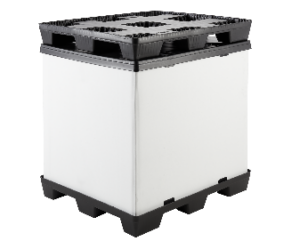 Durable – Constructed of thermoformed custom HDPE materials, BigPak® Sleeve Packs are durable and long-lasting, resistant to impact, weather, and humidity. Yet, they're lightweight for better ergonomics. You can count on our sleeve packs to protect your materials and products and reduce the risk of damage during shipping and storage.
Long-lasting – Our reusable bulk containers retain their shape, size, and weight and won't warp, shrink, or swell like wooden pallets, making them ideal for automated material handling equipment. Because of their long life, bulk containers are your economical choice. Compared with wood pallets that only last a dozen or fewer uses, BigPak® Sleeve Packs can be reused hundreds of times, reducing the total cost of ownership.
Eco-friendly – Reusable bulk containers are an eco-friendly solution because they're returnable and reusable time after time, and fully recyclable at the end of useful life, saving you money over the long term on waste and disposal costs and lowering the product's environmental impact.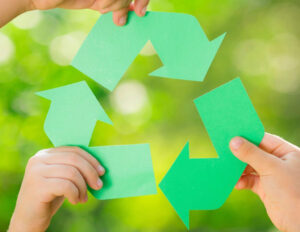 Sanitary – Our sleeve packs and many of our pallets are ideal for industries such as grocery, food, beverage, and pharmaceuticals thanks to sanitary, easy-to-clean surfaces that help protect against microbes and other contaminants.
Cost and storage savings – The advanced, low-profile design of BigPak® Sleeve Packs, including nestable plastic pallets and covers and interlocking pallet legs, cut down on storage space needs and help reduce costs.
Flexible – The mirror image pallet and lid pieces are interchangeable for increased flexibility. Our BigPak® 40×48 TP-TC Conveyable model features the Ever-Lock2® locking option and includes a conveyable cover lid for additional storage options.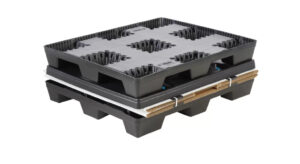 Customizable – BigPak® Sleeve Packs are highly customizable to meet the specific shipping and storage needs of your business. There are several collapsible sleeve choices, including Fiberboard Z-fold, Twin Sheet Thermoformed, or Fluted Plastic sleeves. Locking options include Ever-Lock2® and the Peanut Lock, which provide security without the need for stretch wrapping. Choose from a wide range of colors and striping options or add a custom logo for product identification and brand identity. We can also craft leg drain holes for added moisture resistance.
From durability and cost savings to hygiene and customization, BigPak® Sleeve Packs have been thoughtfully designed, rigorously tested, and are a long-standing dependable product in the sleeve pack market. Want to know more about our products? Contact us today!